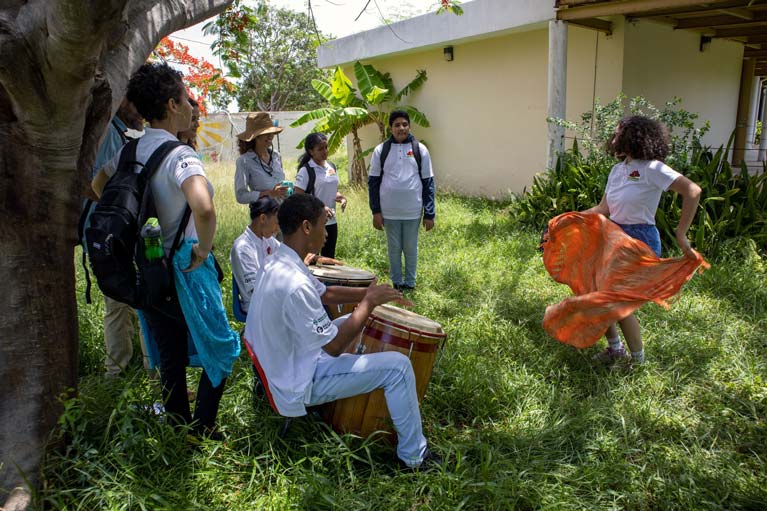 Live an authentic tourist experience!
Centro Esperanza's Heritage Tourism and Community Service Program offers authentic tourism experiences led by youth from local communities. The tours are designed for visitors interested in experiencing first-hand the most outstanding elements of Loíza's natural and cultural heritage while learning about Centro Esperanza's impact and commitment to improving the quality of community life for Loiceños.
Trained as interpreter guides, our young leaders offer their visitors an authentic and memorable experience. The Program enables young people from the community to acquire work and professional experience in a safe space and develop skills that enhance their future job performance. In addition, it offers them the opportunity to enrich their knowledge about the natural and human history of the Loíza region, generate income for their services as interpreter guides and link them with the long and extraordinary history of community management of Centro Esperanza.
Included
The visit includes a 2-hour interpretive tour, bird watching equipment, a musical experience with instruments and typical clothing for the bomba, and food from the traditional cuisine of Loíza.
What should I bring to be prepared for the tour?
Wear cool, comfortable clothing, and closed toes shoes.
Bring your reusable water bottle.
Bring snack or eat prior to the tour.
How do I know this tour is for me?
Our tour is designed to offer a memorable visit to visitors who value and are interested in practicing a different, responsible, and committed tourism.
It is a tour that shares an ideal experience for those who enjoy learning, exploring, discovering, and showing solidarity with community service initiatives and the development of young people devoted to a better future for themselves and their community.
*They can contact us to arrange a personalized tour.